Speakonia is a text to speech program developed by CFS Technologies used to make episodes of a1130's "The World of Speakonia."
Speakonia

Type:

Text-to-speech program

License:

Freeware

Developers:

CFS Technologies, Lernout & Hauspie (acquired by Nuance)

Status:

Discontinued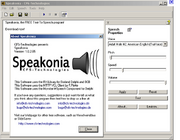 Speakonia's interface is very similar to that of Notepad. Normally, a person who has absolutely NO experience with text-to-speech can use it. A person can simply select the desired voice on the toolbar to the right along with the pitch and speech settings, click the "Apply" button (and wait for that voice to say the letters "OK"), type what he/she wants the voice to say, and click the button that resembles "Play."
The benefits of Speakonia is that it can save text into ".wav" file format sounds if the program is registered. To register Speakonia, simply click "Register" in the "Help" drop-down menu and enter your name and email address.
The voices in Speakonia use packages provided by Microsoft and L&H (now known as Nuance).
Other benefits
Edit
Some of the voices can have pitch and speech settings so high they can resemble cartoon characters. This is why Speakonia can be very important for creating TV shows- they are usually a good substitute for human voice actors.
Disadavantages
Edit
Most of the voices on Speakonia sound rather unnatural and fake [says who?]. This is not the fault of CFS Technologies, but possibly because of faults in Lernout & Hauspie's voice packages. Most of the female voices (except for Microsoft Mary) are unusable and weird sounding [citation needed]. However, the program has attracted a good amount of downloaders (according to CNET) over the years it has developed.
Discontinuation
Edit
CFS Techonlogies (Speakonia's developer) has put a notice on their official website that "developement of this program [Speakonia] has been discontinued." In fact, the entire CFS Technologies itself is now defunct, displaying a notice saying:
Dear Visitor,

We are sorry to announce, that there will be no more updates of software by CFS-Technologies in the foreseeable future. Unfortunately we also won't be able to offer support for our software anymore.
For your convenience the Speakonia registration form will stay available online. This will allow you to generate new registration keys to use the full potential of Speakonia.
We would like to thank you as a costumer for your long lasting support and your understanding!
Best Regards,
Chris Schuster
CFS-Technologies
External links
Edit
Download link to Speakonia (and the L&H/Microsoft speech engine): http://www.cfs-technologies.com/home/?id=1.4
References
Edit
http://www.cfs-technologies.com/home/?id=1.4